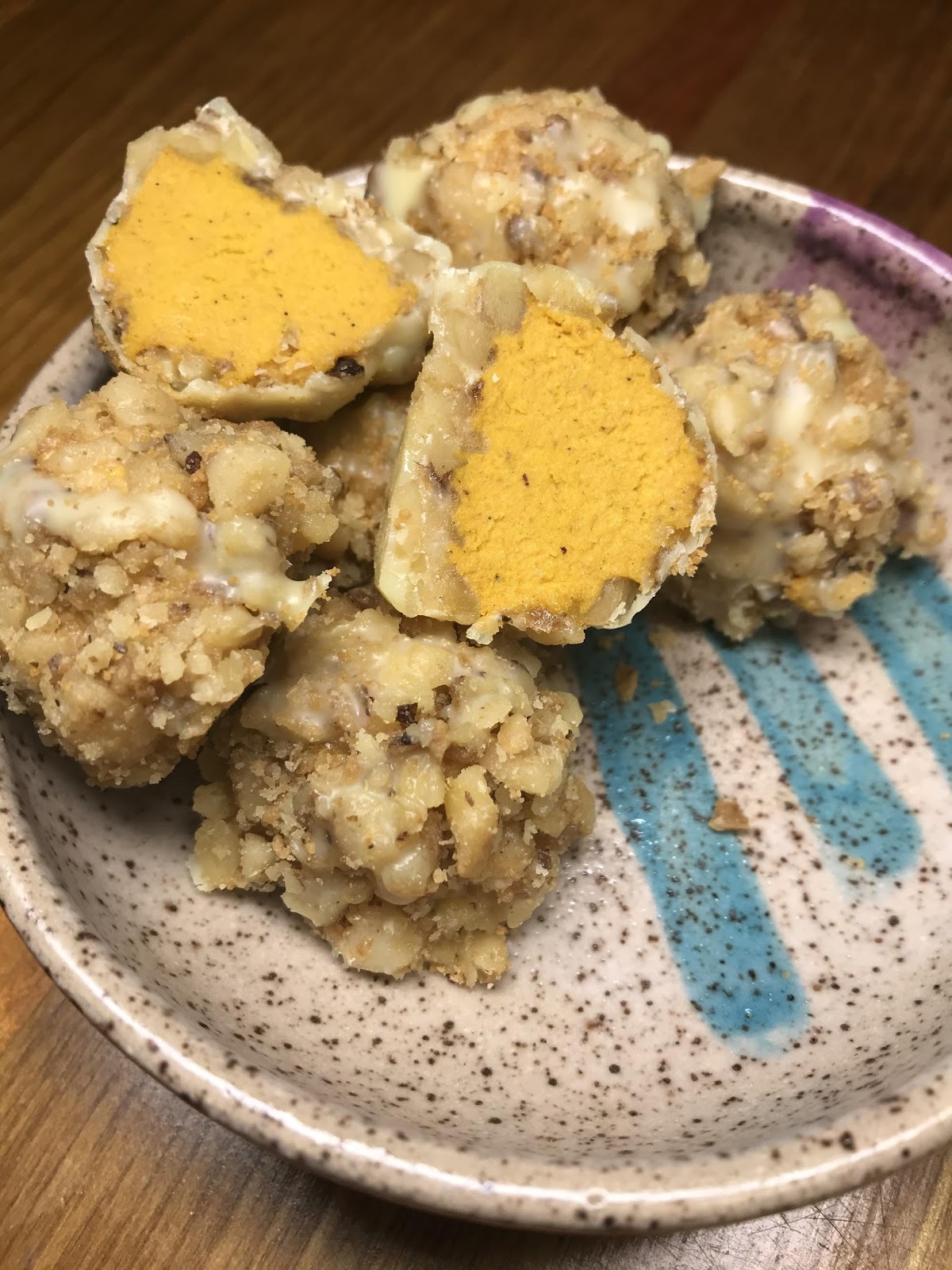 Makes about 50- 10g fillings, (Gluten free, vegan, refined sugar free)
Filling Ingredients:
2 tablespoons coconut oil
3/4 pound carrots (peeled and chopped)
1/4 cup golden raisins
2/3 cup coconut milk (full fat canned)
1/2 cup coconut cannabis oil*
1 teaspoon ground cinnamon
1 teaspoon freshly grated nutmeg
3/4 teaspoon ground ginger
1/8 teaspoon ground cloves
2 teaspoons vanilla bean paste
1 1/2 tablespoons maple syrup
Coating Ingredients:
3 cups walnuts
3/4 cups maple syrup
Pinch of salt
10 ounces cacao butter or 16 ounces white chocolate (optional)
Filling:
Heat a couple of tablespoons of regular coconut oil in a thick bottomed pot or pan over medium low heat.
Slowly cook carrots for about 45 minutes to an hour, stirring occasionally (this stage not only softens the carrots, but releases the natural sugars). Avoid browning.
When carrots are soft, sweet and slightly smaller, add raisins and coconut milk, cook for about 5 to 10 minutes more, until raisins are plump.
Carefully pour the mixture into blender or food processor and add remaining ingredients. Blend until smooth. Chill.
Coating:
Heat 3 cups of walnuts and 3/4 cup of maple syrup in a thick bottomed pot over medium high heat, and stir constantly until syrup is reduced and you're left with dry maple sugar coated walnuts. (Turn the heat down if browning or burning starts.)
Pour out onto parchment paper or cutting board to cool.
Pulse your cooled maple candied walnuts in a food processor or chop by hand.
Scoop truffle filling into whatever size you prefer. Chill. Coat in chopped maple candied walnuts and enjoy!
Alternatively, scoop and freeze truffle fillings, then dip into melted cacao butter (vegan and not sweetened) or melted white chocolate before immediately rolling in chopped candied walnuts. (Use a toothpick or truffle fork to dip for best results.)
Store in an airtight container and keep refrigerated. These freeze and thaw beautifully for a quick treat anytime you need them!
*If you are making these for Grandma, I strongly suggest non-decaroxylated (THCA) cannabis oil, or over decarboxylated cannabis oil (CBN). THCA and CBN are beneficial without as much of the high! 
Kendra Starr of @starrsolventless is the pastry chef at The White Horse Tavern. For more recipes, go to motifri.com/cannabisrecipes