Dec 2021 marked the move from farmer's market pop-up to brick and mortar for Clover Desserts. Owner Courtney Staiano and her iconic rolling cart of desserts, pastries, and other sweet treats known from years of Farm Fresh markets have found a permanent home on Valley Street in Providence. While you can still grab a triple chocolate chip cookie or butterscotch custard jar at the weekly Farm Fresh market on Saturday mornings, it is more than worth the trip down the road to see the new storefront and all its offerings.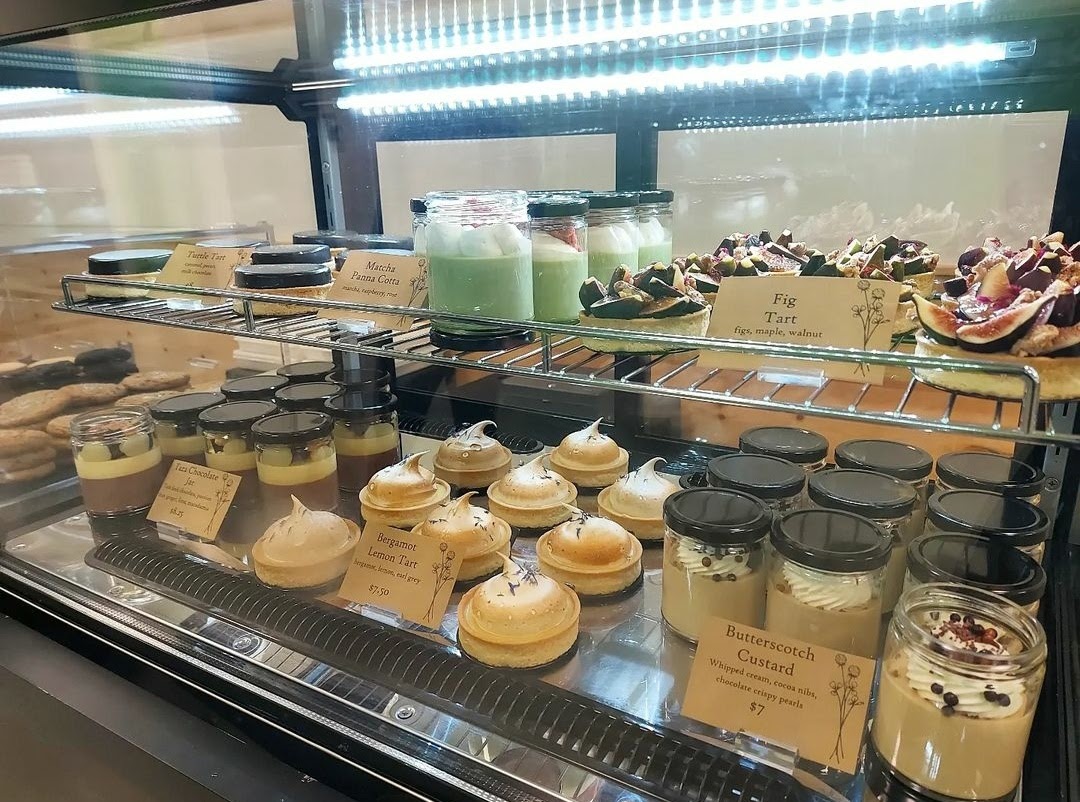 Clover Desserts started in 2018 as a weekend project built around Staiano's full-time jobs at various bakeries and restaurants. Armed with the above-mentioned rolling cart (a custom model designed and built by her engineer husband), she offered a selection of irresistibly eye-catching tarts, cookies, and even petit gateaux (a type of small French cake with mousse and various fillings). Occasional pop-ups eventually turned into a business venture that has flourished, even amid a worldwide pandemic.
A graduate of the pastry arts program at Johnson & Wales University, Staiano wanted to bring something different to the roster of bakeries in Rhode Island, and local dessert fans are (quite literally) eating it up.
"We're not trying to be avant garde. We want anyone to feel like they can find something to enjoy, but it will have a unique twist or different presentation than what you may come across in a more traditional bakery."
On the subject of design, Staiano mentions that customers have described the confections as looking like 3-D printed copies, and the comparison is a fair one. Looking at the shop's display case, the only difference one can see between tarts in a displayed row of turtle tarts (a luscious caramel and pecan filled pastry topped with a milk chocolate mousse) is the unique scattering of gold stars on the mirror glaze.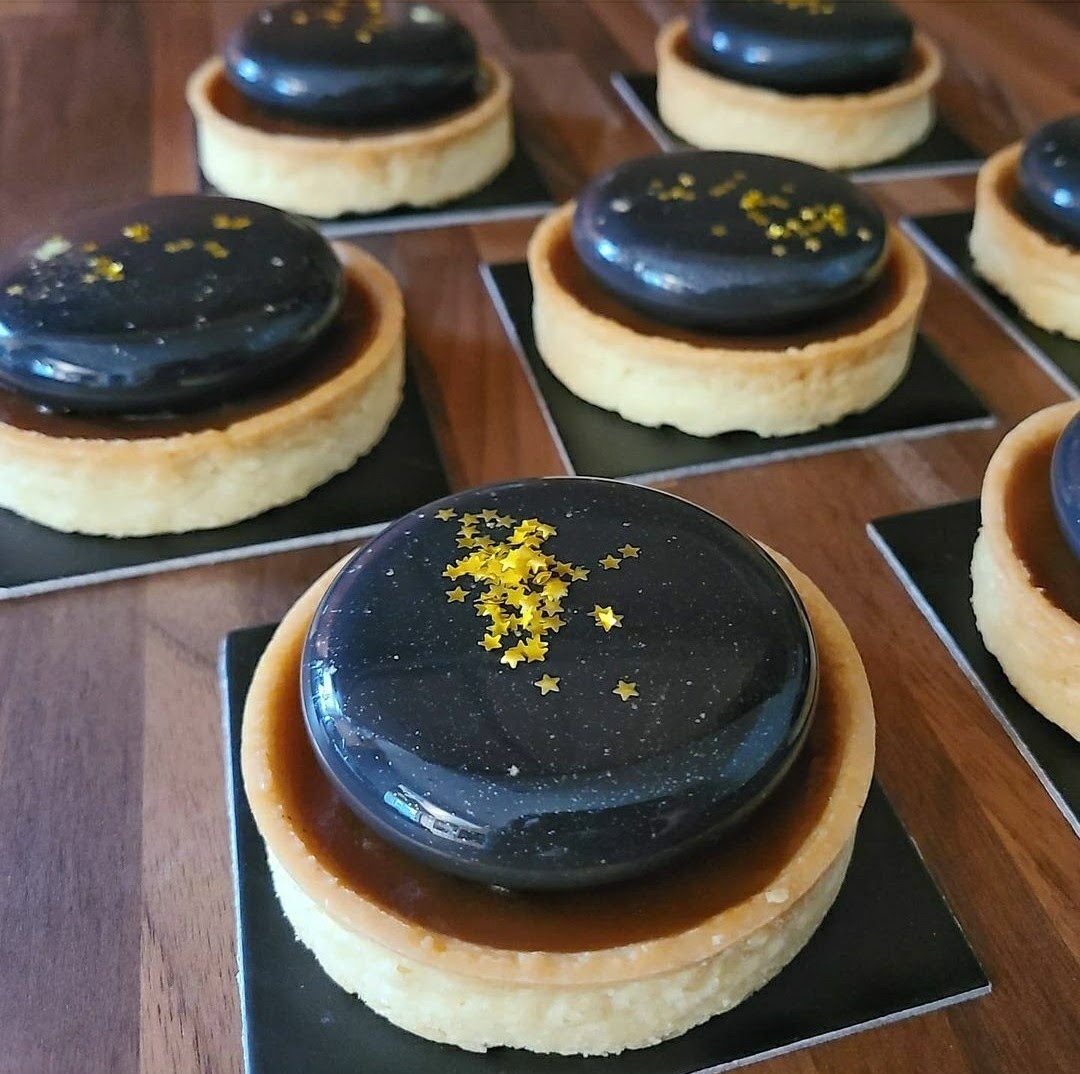 We've all heard the phrase "eat with your eyes," but it's hard to recall the last time it was so difficult to ruin the beauty of a dessert with a fork. If you can, try to push through to that sticky-sweet, nutty goodness within (pro tip — totally worth it).
The immaculate vibe extends behind the counter as well. The creative process for designing new dessert concepts is done with the same precision that goes into producing them. A quick peek into the small production space reveals not only a very well-organized kitchen, but also a single sheet of parchment paper hung with care on the fridge door. It features a neatly penned list of possibilities for future dessert concepts, with circles drawn around top contenders and arrows pointing to potential flavor accompaniments.
It's a charming glimpse at the thought and care Staiano gives each item on the Clover Desserts menu. She likes to take inspiration from seasonal New England flavors, but is always considering how she can elevate a familiar concept to something spectacular. "I like to think of it like a movie, where the flavor we really want to highlight is the starring role, and then the next one is the supporting or best friend character, and one other is there as a background cameo, but everyone matters".
A perfect example is the Chamomile Gateau, a seasonal offering that highlights the floral notes of loose leaf chamomile tea in an airy mousse, cut with the tang of a jammy pineapple compote insert and laid on a coconut cake and crispy base. The careful choice to give the "starring role" to a gentler flavor like chamomile and casting pineapple and coconut as the "supporting ensemble" reflects Staiano's approach to confectionary composition — unexpected, but not unfamiliar.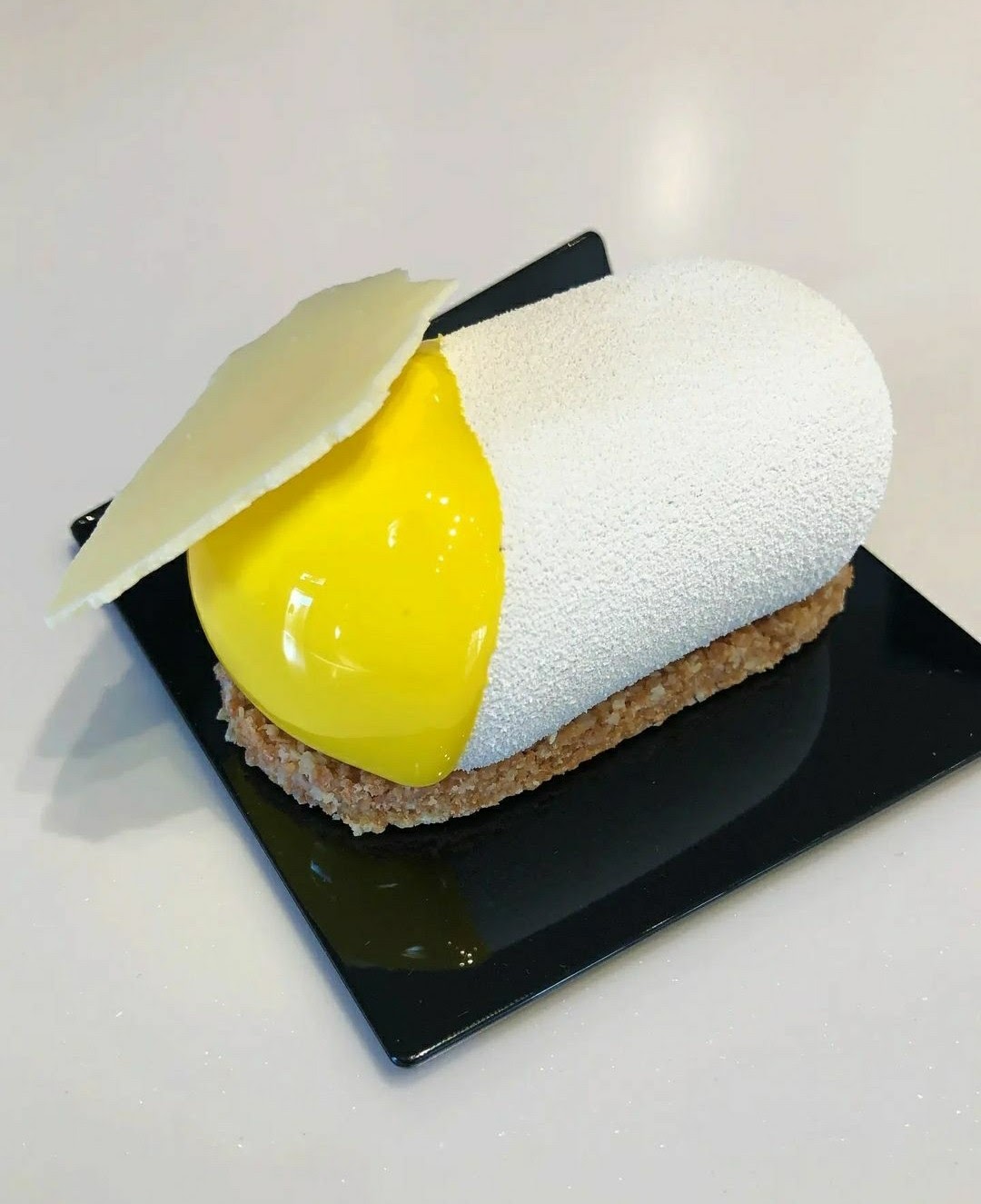 With Valentine's Day just around the corner, it's a busy time for brainstorming in the kitchen. "Should we tease the menu, or keep it a secret? Maybe just a little bit?" Staiano consults her sous chef Karissa on how much to reveal about what delicacies the most romantic day of the year will bring to the shop. "Well, we're definitely leaning into the lovey-dovey-ness, almost everything will be heart shaped. Red, pink, and white colors, and even some jet-black for the anti-romance crowd." The red and black counterparts will be fittingly flavored as red velvet and black forest, respectively. Stay tuned to the Clover Desserts official Instagram for more details and menu items to come!
By the sound of it, Clover Desserts will be a must for your February 14th plans, whatever they may be. Place a preorder online or visit Thursday and Fridays 8am – 3pm, Saturday 9am – 3pm, and Sunday 9am – noon.
Clover Desserts, 52A Valley St, PVD, www.cloverdesserts.com, @cloverdesserts