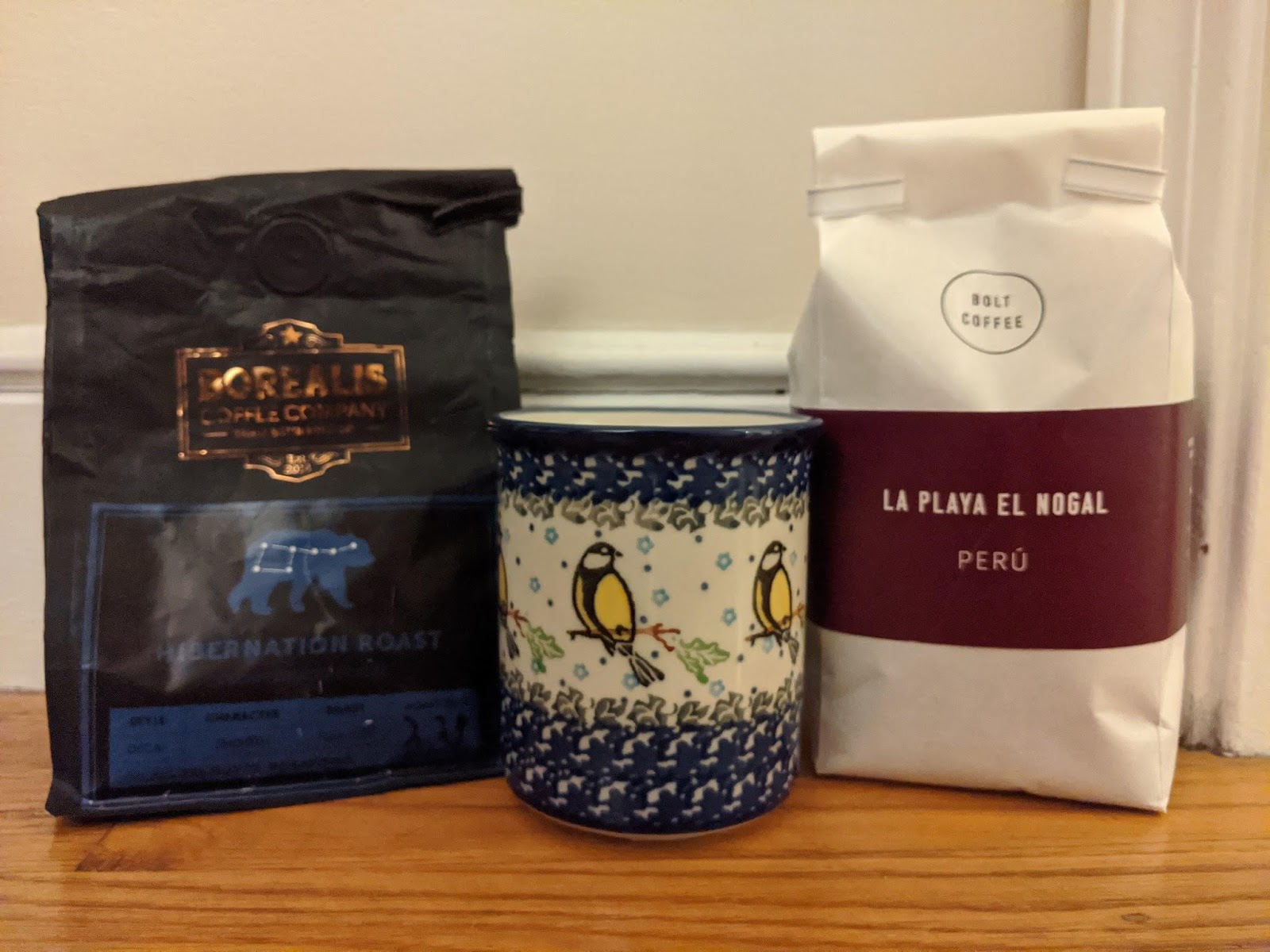 As cafes across the country closed or adjusted their operations to confront public health and financial concerns during the coronavirus (COVID-19) pandemic, the National Coffee Association's annual survey found 70% of American adults reported drinking coffee at least once per week. If you count yourself in that tally, whether you prefer to down a quick pick-me-up or linger over a cozy cup, the past few weeks have likely transformed your coffee routines and rituals — with consequences for local businesses.
After stay-in-place orders went into effect, Rhode Island's coffee roasteries — determiners of the flavor profiles you smell and taste, processors turning beans from all over the world into finished roasts, and guarantors of the coffee you like reaching its point of purchase — witnessed the erosion of wholesale orders and turned toward delivery, and in some cases contactless pick-up, to continue serving their customers. Whether you delicately prepare a morning pourover, set your automatic machine with grinds enough for multiple refills, or are grappling with how to make coffee at home, first you need your beans. These roasteries shared their experiences and advice when it comes to coffee during troubled times:
Roasting coffee beans in Smith Hill, PVD
Four cafes, all currently closed:
– 61 Washington St, PVD
– District Hall, 225 Dyer St, PVD
– RISD Museum, 224 Benefit St, PVD
– The Dean Hotel, 122 Fountain St, PVD
The public health crisis struck just after Bolt soft opened its first standalone cafe in downtown PVD. As well as closing all four locations due to the fallout, Justin Enis, coffee director at Bolt, said the company lost about 97% of its wholesale volume, with closed restaurants and other cafes cutting back on coffee orders. With much of its staff out of work, Bolt instituted a virtual tip jar on GoFundMe, committing to distribute 100% of donations to staff who relied on tips and to make company contributions based on coffee sales. A surge in online orders — a 10X increase, said Enis — has been a bright spot during a dark time. To support emergency workers, Bolt has provided coffee, granola bars and juice to the Providence Fire Department and Kent Hospital in Warwick with an open call for future collections.
How to order: Purchase through the Bolt website. Local customers can choose to collect their orders at Bolt's roastery (96 Calverley St, PVD), which remains open for pick-ups from Monday to Friday between 9am and 5pm. Bolt asks customers to wait until at least noon of the day following their order.
Special deals: Bolt ships online orders of any size within the US at a flat rate of $5. Keep an eye out for short-term specials: Bolt ran a two-week discount of 20% for all online orders and a flash sale featured 12 oz. bags of the Honduras Rafael Lara for $12, roughly 15% off its regular price, while supplies lasted.
Coffee subscriptions: Bolt offers its Roaster's Choice Subscription, modeled on taste profiles — "easy all-day drinking," "new and exciting" or "mix it up" — at five price tiers ranging between $17 and $56 per month based on the quantity of coffee. Subscribers are encouraged to share their taste preferences.
Additional retail: Bolt mug, insulated coffee tumbler, AeroPress coffee maker and gift cards.
Roasting status: To manage freshness with online orders and shipping, Bolt has changed its production process from roasting back-to-back on Mondays and Tuesdays to roasting on Mondays and Thursdays.
New tastes: Snapchilled Coffee: This iced coffee from Kagumoini, Kenya, was crafted with Elemental Beverage Company in Watertown, Massachusetts, by flash chilling large batches of hot coffee to maintain acidity, body and flavor. "That means peaches and caramel notes all day," said Enis. Single cans or four-packs are available for pick-up at Bolt's roastery or for delivery through Elemental. Mirror Mirror: Justin Enis of Bolt and Rob Rodriguez of Night Shift in Everett, Massachusetts cupped and coordinated together for a joint release modeled off craft brewery collaborations. The result, said Enis, is "a cherry bomb of a Colombian coffee from Cauca." Bloom: Bolt released its Spring Seasonal Blend, promising notes of brown sugar, citrus notes and tropical sweetness.
Different approaches: "We shifted the whole business model and roastery space to facilitate the massive uptick of online orders and local pick-ups," said Enis. With in-person chats and training on hold, Bolt turned to Instagram for live home-brew sessions and IGTV video guides for coffee instruction.
Ending on a high note: "It has been humbling to see the response in folks supporting us and feels so good to see everyone excited and sharing their joy for simply having coffee," said Enis. "Our mission is to drive community through hospitality, and we aim to still achieve this despite the distance."
Roasting coffee beans in Pawtucket and Riverside
One cafe, currently closed:
– 250 Bullocks Point Ave, Riverside (East Providence)
After more than three years in a former railway station along the East Bay Bike Path, Borealis opened a new roastery in Pawtucket shortly before the pandemic caused the doors of its Riverside cafe to close on customers. "I've debated about a take-out option," said owner Brian Dwiggins, "but my thought is that if we're supposed to be helping flatten the curve, then we shouldn't be encouraging people to leave their homes when they can have it delivered." Borealis committed to allocate 20% of online sales to employees who lost their jobs and to continue health insurance for those who had enrolled in a work-provided plan. "I feel that it's a little more tangible for the customers to see that their support is still going to the baristas they know and love," said Dwiggins. "Doing more to promote online sales was one of my goals for this year, but this isn't exactly what I had in mind."
How to order: Purchase through the Borealis website. In-person pick-up is not available at the moment.
Special deals: A five-roast sampler ($65) runs roughly 15% less than if each 12 oz. or 16 oz. bag of coffee were purchased separately. The addition of 5 lb. options includes a built-in bulk discount. Shipping is free on orders above $35.
Coffee subscriptions: Borealis runs a Coffee Club featuring one or two bags of coffee per month, offered in six-month or one-year increments. Roast preferences and favorite regions are encouraged.
Additional retail: Borealis latte-art patches, enamel pins, mugs and trucker hats.
Roasting status: Borealis dropped one day in its roasting schedule, moving from four days per week during normal operations (ie, from Tuesday through Friday) to three. By roasting on Mondays, Wednesdays and Fridays, Dwiggins said Borealis is better able to process and ship online orders.
New tastes: "With our new roaster, we're still fine tuning the roasts and continuing to weigh which coffees are better in Riverside and which coffees are better in Pawtucket," said Dwiggins. "It's a very cool machine, so we're really taking the time to dig in and wrap our heads around the bells and whistles." In mid-April, Borealis plans to introduce its new Ursa Major blend. With astronomical tendencies intact, the roast honors the constellation that contains the Big Dipper and can be prepared with a V60 dripper.
Different approaches: Since cupping has proven challenging with social distancing, Dwiggins has been conducting his tastings at home. Borealis is also in the process of certifying some coffees as organic.
Ending on a high note: "Small businesses are directly connected to the community," said Dwiggins. "We are your neighbors, friends, and family members. Our businesses support other local businesses, and our employees support other small businesses and each other, so we have a much larger effect on the local economy than a national chain with the same number of employees."
Roasting coffee beans in Tiverton
One cafe, open for pick-up/take-out;
– 1791 Main Rd, Tiverton
With a cafe and on-site roasting in Tiverton, Coastal Roasters relies on the support of its community, especially with seasonal ups and downs. Although revenue has dropped, with wholesale orders from restaurants and other cafes falling roughly 80%, founder Donald Machado said the retail business and grocery orders have remained steady and robust. "As owners, we have the typical stresses of balancing the safety of customers and employees and ourselves with the ability to provide a service and earn a living," said Machado. "It causes extra stress not knowing the duration of the new environment and its short- and long-term impacts on business viability, but we feel blessed to be able to stay open even in its more constrained form." Machado said he hopes their coffees can bring normalcy to people's routines.
How to order: Coastal Roasters is currently open for pick-up/take-out of beans, beverages and pastries. Pick-up orders can be placed in advance using a Square site or by calling 401-624-2343. Mail order requests for delivery can only be placed by phone.
Current specials: A minimum order of two bags of coffee beans receives same-day drop-off for free in Little Compton, Tiverton and select areas in Portsmouth.
Additional retail: Coastal Roasters hats, mugs and clothing, local honey and loose-leaf teas, equipment including French presses and AeroPress coffee makers, and gift cards, through Square for online orders and at the cafe for in-store purchases.
New tastes: Coastal Roasters created a custom blend for Le Bec Sucré bakery in Middletown, featuring Indonesian, South American and Central American beans to deliver a dark, but not quite French, roast. Coastal recently introduced a Dominican Republic peaberry and sold out of its seasonal winter roast.
Different approaches: The use of online ordering for beans and beverages through Square is new, and has proven "quite popular," said Machado. "We're working mainly on staying open," he said. "That's about as exciting as we can get at the moment."
Ending on a high note: "We appreciate all the love and kindness customers have shown, and most importantly we recognize the efforts and care our employees exhibit during these trying times," said Machado. "We're grateful we still have the opportunity to share our goods and services."
Roasting coffee beans in Fox Point, PVD
One cafe, open for pick-up/take-out:
– 207 Wickenden St, PVD
"While we are happy to be able to continue to provide coffee, we are disheartened by what is happening and our hearts go out to everyone who is struggling during this time," said Charlie Fishbein, president of the Coffee Exchange. When the small-batch coffee roaster introduced a Venmo fund for its laid-off baristas, one of the first donations came in from a former employee who had worked for the Fox Point institution more than 30 years ago. "Small businesses are the heartbeat of any community," said Fishbein. "When we invest in our neighbors it gives all of us hope and helps us feel the impact of our care for one another."
How to order: Home delivery is not available from the Coffee Exchange, but orders for pick-up can be placed through the Coffee Exchange website. The cafe at 207 Wickenden St is operating a to-go window on its deck from 9am until 3pm, serving drip brew and coffee beans by the pound. Customers are asked to use the code BEANPICKUP online at least 90 minutes before stopping by to collect their order. Because the to-go window closes at 3pm, orders placed after 1:30pm will be ready the following day.
Coffee subscriptions: The Coffee Exchange's Coffee Club knocks 10% off the price of any coffee, when placed as a recurring order at intervals as short as once per week.
Additional retail: Stove-top espresso maker, hand-held coffee grinders, AeroPress coffee maker, various filters for pourovers, a Coffee Exchange-branded mug or Thermos, and gift cards
Roasting status: Because of the volume of pick-up and online orders, the Coffee Exchange has been roasting to order. "Ultimately, this means customers are getting the freshest roasted coffee possible," said Fishbein.
New tastes: A new Vienna-roasted Laotian coffee has replaced the Vienna-roasted Costa Rican coffee, which is currently unavailable.
Different approaches: "The to-go window was added for efficiency and safety," said Fishbein, "as was reorganizing the interior work space to provide appropriate distance between staff members." Some revised and updated technologies have also improved how the Coffee Exchange fulfills its orders.
Ending on a high note: "The continuous operating of Coffee Exchange is totally dependent upon a few extraordinary people and some extraordinary concerned customers," said Fishbein. "Hopefully, we'll be able to continue some level of services going forward, and once we're able to get back to full operation, it's these people — people who have been the heart and soul of this business, currently working today or unemployed — who will take us back to normalcy. Now, that's a condition I never thought I'd aspire to."
Roasting coffee beans in Narragansett
One cafe currently closed:
– 341 S Main St, PVD (closed)
One cafe open for pick-up/take-out:
– 5193 Old Post Rd, Charlestown
"The rules have changed. But, our coffee hasn't…," opened an April newsletter from Dave's Coffee. "One of life's little comforts, something that brings happiness, is something that is familiar. Something that brings a smile to your face. Coffee is that something in our world." With its Charlestown location open for take-out and plans in place for its PVD cafe to follow suit, Dave's has benefited from selling limited groceries to support its suppliers and grocers increasing their coffee orders. "I feel very strongly that small, local business plays a huge role in our economy," said Dave Lanning, founder of Dave's Coffee. "My primary concern as a small business owner is to keep generating revenue so that I can keep current employees working and bring back those affected as soon as possible in a safe manner."
How to order: Purchase through Dave's website. The Charlestown cafe reopened on Friday, March 27, with coffee, baked goods, and select groceries from local suppliers. Customers can call (401-315-2160), visit ChowNow, or use the Dave's Coffee mobile app for Android and iPhone. Lanning said Dave's plans to reopen its PVD cafe using the same system.
Coffee subscriptions: Dave's serves up a weekly or monthly coffee subscription program for repeat roasts or a rotation with Roaster's Choice. After the first order, each bag of coffee is discounted 15%.
Additional retail: A robust selection of grinders, kettles and coffeemakers as well as mugs, t-shirts and flannel-wool ear-flap caps and Dave's take on the Rhode Island tradition of coffee syrup.
Roasting status: With online sales and grocery stores increasing their orders, Lanning said Dave's has seen only a slight decrease in its roasting volume.
New tastes: Falcon: Dave's seasonal cold-brew blend took flight in time for the warmer weather.
Different approaches: As well as coffees and items from the bakery, Dave's added common pantry items to its menu, including milk and butter from S.B. Winsor Dairy in Johnston and almond, soy and oat milks. While reducing the number of stops for customers in need of the basics, the addition of a few groceries also helps local suppliers.
Ending on a high note: "Thank you for your continued support and all the kind words of encouragement we've received," wrote Lanning to conclude his April newsletter. "Stay strong. Stay positive. Stay healthy."
Roasting coffee beans in Pawtucket
No cafe; roastery pick-up currently closed
Roasting coffees since 1953, Downeast Coffee focuses on wholesale and direct sales, without operating a cafe of its own. "Our business is down significantly and many of our customers are completely shut down or not ordering at all," said Mike Kapos, vice president of sales and marketing at Downeast. "Our team here has a healthy combination of fear and hope, and we will persevere."
How to order: Purchase through Downeast's website. In-person pick-up is not available at the moment.
Special deals: With a nod to the necessity of coffee for many of those able to work from home, the checkout code WFH provides a 20% discount and guarantees free shipping.
Additional retail: Branded mug, baseball cap and a trucker hat; otherwise, Downeast encourages brewing coffee at home and offers a 10% discount (using a code found on their website) on the necessary, or complementary, coffee-making equipment when purchased through Espresso Parts.
Roasting status: A large decrease in volume has decreased the frequency of roasting, said Kapos. "Otherwise, nothing has changed with the roasting process specifically other than implementing CDC guidelines in our plant and companywide to ensure the health and safety of our team and customers."
Different approaches: Downeast is working with home-delivery services Roch's Fresh Food in Rhode Island and Pepper Pantry in New York to offer its coffees direct to customers. Drive-through coffee service has been "a lifesaver," said Kapos, noting Brewed Awakenings whose Cranston and Warwick cafes remain open for take-out. The challenges have encouraged greater focus on growing online traffic too.
Ending on a high note: "Small businesses are the backbone of Rhode Island and the country," said Kapos. "Although this is a shocking and devastating time, we know that our company, our industry and fellow small businesses in Rhode Island will bounce back stronger than ever."
Coffee beans roasted in Pawtucket
Roastery, open:
– Hope Artiste Village, 999 Main St, #108, Pawtucket
One cafe, currently closed:
– 130 Westminster St, PVD
Nineteen years ago, New Harvest started up with an aim of "making great coffee accessible to real people." An influx of online orders has given new meaning and urgency to the long-standing local roaster's efforts. With bakeries, cafes, restaurants, hotels and universities pausing or scaling back their operations, New Harvest's wholesale business has taken a hit. "Like every other small business right now, we are struggling from day to day to navigate this wrenching new reality," said Rik Kleinfeldt, founder and co-owner of New Harvest. As grocery stores continue to stock coffee from New Harvest, Kleinfeldt encourages support of Urban Greens Co-op Market (93 Cranston St, PVD), which opened in June 2019. With its trainings and events on hold, New Harvest's step-by-step instructions for using a French press, Chemex, Kalita Wave or AeroPress coffee maker offer advice for anybody trying their hand at home.
How to order: Purchase through New Harvest's website. In-person pick-up is available at the roastery on premises at Hope Artiste Village from Monday through Friday between 9am and 3pm. Customers are asked to call (401-438-1999) or email beforehand. As well as standard shipping options, New Harvest introduced its own next-day home delivery in North Providence, Pawtucket and Providence.
Special deals: Free shipping is available on orders of $75 or more.
Coffee subscriptions: New Harvest's monthly Coffee Club includes a coffee mug with the first order. Subscriptions run for six months or one year, with an organic option, and shipping costs are covered.
Additional retail: A range of home coffee-brewing equipment, including kettles, scales, French presses and various coffee makers as well as New Harvest t-shirts, tote bags and gift cards.
Roasting status: Although its Pawtucket roastery remains open for production and purchases of coffee beans, New Harvest is operating at the moment with approximately 85% less staff, said Kleinfeldt.
New tastes: In early March, before the travel shutdowns, Kleinfeldt traveled to Atitlán, Guatemala, to visit the coffee cooperative La Voz que Clama en el Desierto behind the Guatemala La Voz organic single-origin now available from New Harvest.
Different approaches: New Harvest is no stranger to the Farm Fresh RI Winter Farmers Market in Pawtucket — and its seasonal counterpart, the Hope Street Saturday Farmers Market, held in PVD's Lippitt Memorial Park from May through October — but its weekly set-up relocated to the outside courtyard at Hope Artiste Village, with coffee for sale on Saturdays between 9am and 1pm through April.
Ending on a high note: "One thing that inspires me in this crisis is how the local food community has come together to help each other," said Kleinfeldt. "A bunch of farmers and producers collaborated on home delivery, for example, through Pat's Pastured website," an initiative that includes Rhode Island providers of flowers, vegetables, cheeses, seafood, meats, poultry, and, of course, coffee.