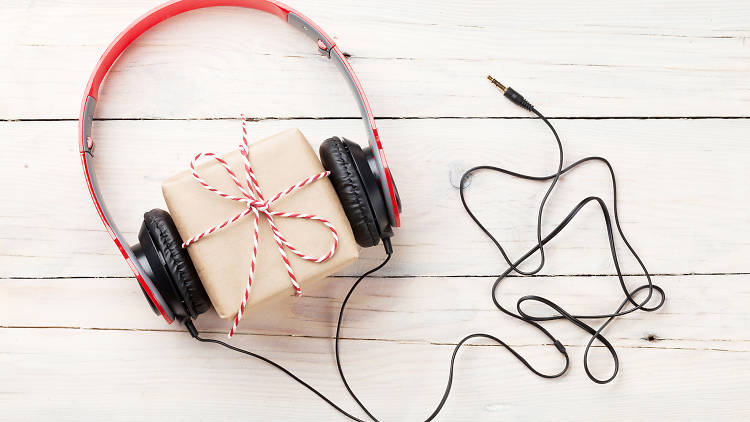 For holiday shopping this year, I took a tour of the eclectic record shops of Providence. I found a number of great gifts for the music lovers of my life.
My first stop of the day was the Armageddon Shop located on Broadway in Providence. As I walked through the door, I was in awe of the CD wall that started at the front windows and expanded to the back of the store. I met one of the owners, Ben, as he was unloading boxes of merchandise. As we began to talk about the opening of his store, "I Feel Alright" by The Damned was softly playing from the speakers. Ben said he worked in a record shop named Fast Forward when he was growing up and when it closed in 1998, he decided to open up his own store. Armageddon Shop of Providence is about to turn 20 years old; in 2010, they opened a second store in Cambridge, MA.
Armageddon Shop is primarily a record store and a mail order establishment that supplies various categories of music on all platforms — and they ship products worldwide. Genres include local, punk/hardcore, indie, garage, rock, metal, noise/industrial, avant experimental, blues/soul, jazz/funk and the list goes on. Not only do they sell records and CDs, they also provide T-shirts, prints, VHS tapes (remember those!) and books. No matter what you're looking for to give to your music lover this holiday season, Armageddon Shop has anything and everything you're looking for.
Armageddon Shop— 436 Broadway, Providence, RI 02909
Next up on my journey was Olympic Records, named the best CD/record store in 2013 by the Providence Phoenix. As I arrived, I was introduced to the shop's owner, Kevin, who welcomed me with kindness and authenticity. Olympic Records opened in the summer of 2011 and has provided one of the most welcoming environments I've ever experienced. He shared that he just celebrated his 10 year anniversary. Olympic mostly sells used records and CDs, rarely turning away anything that walks through the door.
Kevin encourages all genres of music. What caught my eye most was the small but mighty collection of records by local artists, which are a perfect gift for someone who enjoys new and underground music and wants to listen to a sound they never have before.
Olympic Records provides a wide variety of genres and simultaneously keeps merchandise neat and tidy. Unlike most music shops, Kevin makes sure his store is easily accessible and ensures effortless browsing for guests. Olympic Records is the perfect place to go if you're not exactly sure what to get your music lover; if all else fails, Kevin will happily guide you in the right direction.
Olympic Records—580 Wickenden St, Providence, RI 02903
As I made my rounds through Providence with the crisp smell of the brisk air, Round Again Records awaited. As I stepped down into what felt like a secret cellar of the 70's, I was stopped in my tracks by the owner, an older gentleman who looked puzzled at the thought of how I ended up at his shop. I learned his name was Steve and that he opened Round Again Records in 1979. He seemed knowledgeable about music and what he was offering at his shop.
I was busy browsing through the collection of records and CD's when I turned my attention to the hefty bin of prints identical to the ones I noticed on the walls. There I learned from Steve that the photographs were by (regular Motif contributor) Richard McCaffrey, who is an amazing photographer and has a snapshot of just about every popular musician under the sun. Round Again Records is one of the exclusive shops in Rhode Island where you can buy his work.
Round Again Records has just about everything when it comes to records and CDs, predominantly rock, jazz, rhythm and blues. I recommend seeking out a one-of-a-kind photograph print of your music lover's favorite musician because Steve most likely has your favorite artist on hand.
Round Again Records— 278 Wickenden St, Providence, RI 02903
Last but not least, my journey ended with the Music Research Library — and what a find! I rang the doorbell to enter and was led to a door at the end of the hall. I was greeted by Vas, one of two owners of the shop. Vas and Zach opened the Music Research Library in 2016 and just celebrated their 5th anniversary.
I searched through their alternative rock selection and I found an album by The Cars which I proceeded to purchase. They have a record player for guests to play on (using headphones) before they buy. I also got to talk to a consistent customer, Brian, who told me they are one of the only record stores where he was able to find a unique array of video tech records which I learned are music produced or specifically written for use in films, tv production, commercials, radio plays, gaming etc.
Right next door is Vas' brother's shop, Snake's Nostalgia Lounge. It isn't a music store, but it's an astounding shop and is worth the stop. They have vintage clothing, comic books, action figures and more. While you're shopping at the Music Research Library, check out some of the hidden gems to go along with the record you just found next door for your retro music lover.
Music Research Library — 62 Dike St, Providence, RI 02909
Snake's Nostalgia Lounge — 64 Dike St, Providence, RI 02909