When I walked into Earthtones Metaphysical Shop on Wickenden Street in Providence, here is what I noticed: a clean, calming space; two warm storekeepers; the layered scent of essential oils and manifestations; and Beyoncé's "Hold Up" buzzing through the speakers.

Mercedez Matos and Serena Barton-Zainyeh, a couple of five years, entered the metaphysical space as Cedez Tarot in 2021, where they produced herbal blends, aromatherapy mists, and tarot cards. They began hosting events around Rhode Island and eventually opened a metaphysical store just across from the Providence River. If you're new to the metaphysical space, Matos recommends starting with what you feel drawn to, whether it is herbalism, crystals, tarot, or burning. "And then you'll realize that everything is connected," she explains.

I was particularly enchanted by a shelf with stacks of herbal blends and aromatherapy mists that were assigned properties of tarot cards. The High Priestess (Matos' personal favorite tarot card – "it's all about following your intuition and focusing on what's within") Herbal Blend includes lemongrass, peppermint, and garden sage, and claims to help "cleanse, connect, and reflect." Barton-Zainyeh remarked that they wanted to mix the physical and spiritual properties of herbs with the names of tarot cards to "make it a fun way to bring daily magic to people."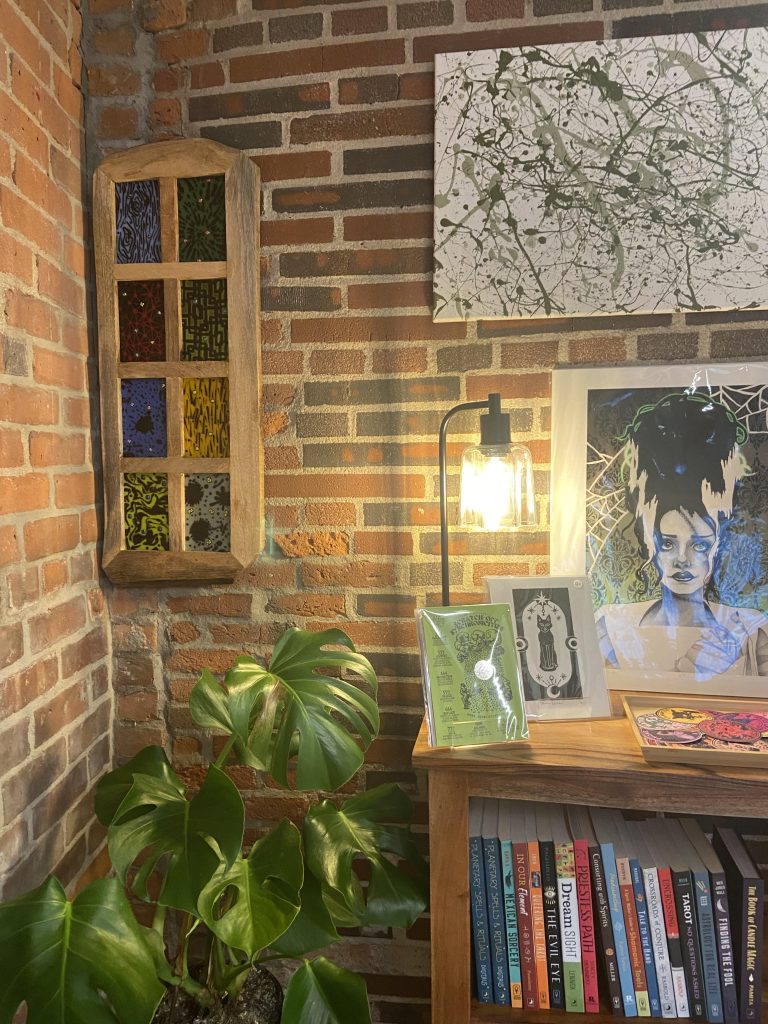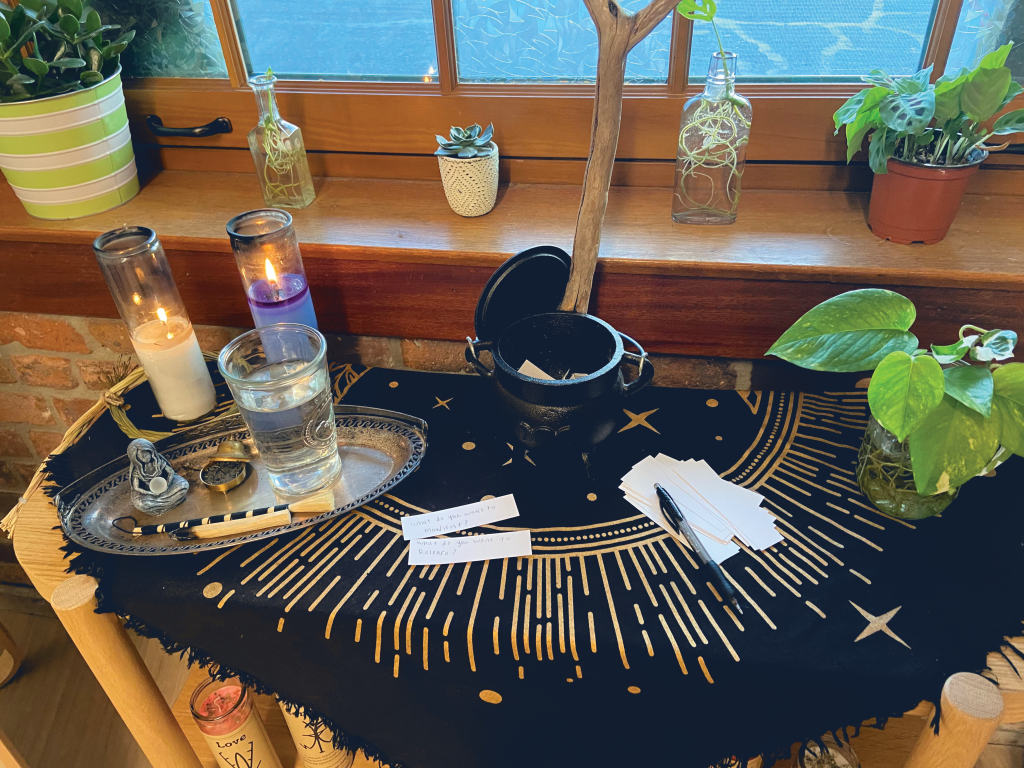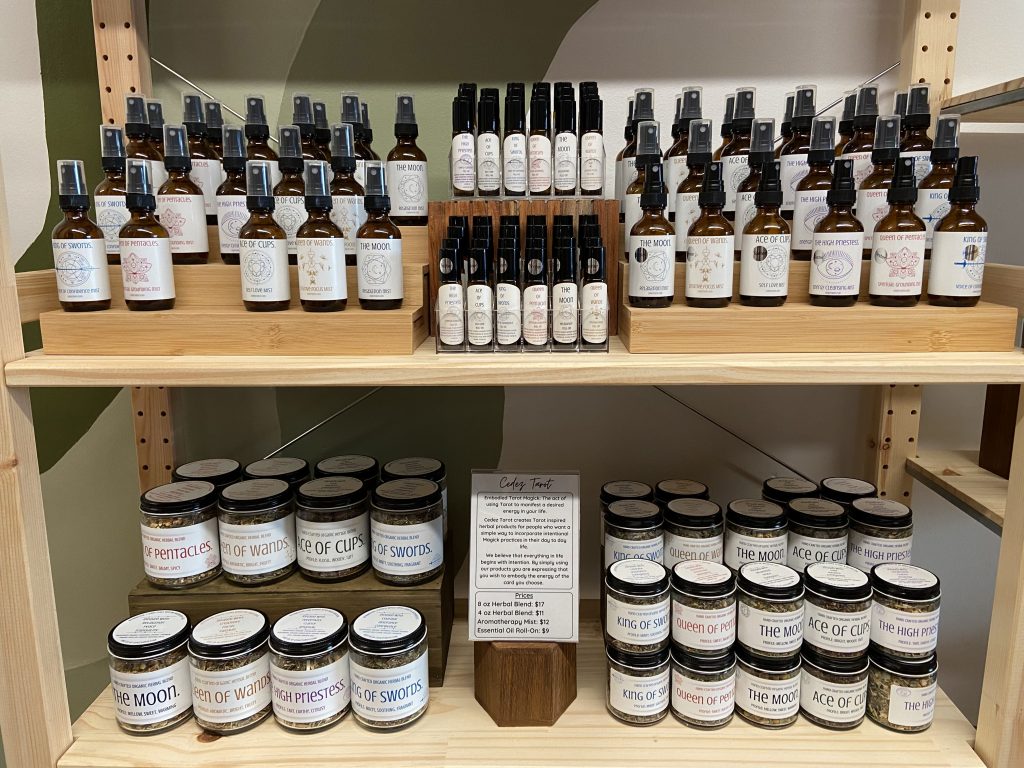 Earthtones boasts of having a store with items almost exclusively sourced and produced locally. Matos and Barton-Zainyeh love engaging with the community – they recently collaborated with locals for a wreath making event at their storefront, and hope to host more events and workshops in the space. "Support your local people," Matos said. "It's okay to ask questions about where your stuff is coming from."

Apart from the items offered at the physical storefront, Earthtones also offers distance tarot readings and reiki through text and email. "You can always come here," they want customers to know, "even if you just want to talk."

My trip to Spectrum-India on Thayer Street was different – but I soon came to realize, not as much as I expected. In contrast to Earthtones, Spectrum-India was bustling: with colors, people, and – to put it plainly but fittingly – stuff. One corner had towers of jewelry, birthday cards, shoes; there were clothes scattered in pockets of the store; books and crystals and shelves of incense sticks, even a number of kalimbas and flutes tucked in another corner – a smorgasbord of all things bohemian. But then, most eerily, I was overcome with a strange and almost euphoric sense as I promptly recognized the opening chords to – you guessed it – Beyoncé's "Hold Up," within the first five minutes of my visit.

I sat down with Heneh Urizar, who has been working at the store for over a year and a half, in the back, in a hair-salon-style chair next to a handmade sign that read "Henna Lessons." 89-year old Jagdish Sachdev opened Spectrum-India about 55 years ago as an Indian exchange store. "We were the first place doing this in Rhode Island when we started," Urizar recounted. "A lot of us felt that metaphysics and Hinduism go hand in hand; that's why we're called Spectrum-India."

While the store sources most of its contents from India, it houses some items from all over the world. "When it matters," said Urizar, "we source it from where it needs to be sourced." Crystals from India and Mexico, some local clothing, and a few knick-knacks from China. Even during my visit to the store, I noticed a diverse crowd stop by – from students to stoners to families. "Every single type of person you can think of," described Urizar; he even recalled some parents bringing in their children to show off where they used to shop fifteen years ago.

Urizar was first drawn to the metaphysical through astrology. A child of pastors, he always had questions about why he was the way that he was. "It was always right for me," he said. "[The Moon] affects the oceans, it affects the tides, it affects the animals, so why shouldn't it affect us in any way?"
For those curious to explore more of the metaphysical world, Urizar feels that as long as there is a "collective consciousness towards something people believe in, it's going to be real." In a Rumi-style what-you-seek-is-seeking-you manner, "the gift will impart itself onto you."

"Whatever you choose should bless you," Urizar said, "if you have open arms towards it."

I walked away from my visits to Earthtones Metaphysical Shop and Spectrum-India with a nostalgic, otherworldly feeling, and a hunch that everything is more connected than it seems, whether this invisible string is "Hold Up" by Beyoncé (which has apparently been appointed as the title track for metaphysics – a development nobody bothered to tell me about), or a deep-seated desire in human nature to understand more of ourselves and make sense of our identities and the world around us. At home, I open up the tarot-themed aromatherapy mist I picked up from Earthtones – Queen of Wands, "creative focus mist" with patchouli, rosemary, bergamot, and witch hazel. I shake the bottle, take a breath, spray my room, and write.

Earthtones Metaphysical Shop, 103 Wickenden St, PVD, (401) 648-7505. earthtonesshop.com
Spectrum-India, 252 Thayer St, PVD, (401) 421-1010. spectrumindiastore.com